About the Author, Louis Tharp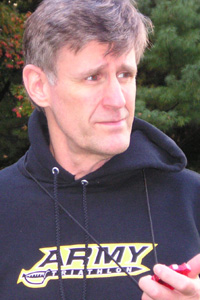 Lou Tharp is a competitive swimmer, World Masters medalist and swim coach of the Army tri team, one of the top performing college triathlon teams in the country.
At age 45, Lou found himself overweight, out of shape and overworked at a job he didn't enjoy. Determined to improve his health, Lou began swimming regularly as part of a comprehensive health and fitness routine. From the start, he was frustrated with the outdated swim training methods he encountered, and felt that tools such as swim buoys and kickboards were having little impact on his performance. After struggling for six months, Lou discovered Total Immersion, a unique approach to swimming designed to generate better, faster results than more conventional methods.
With the help of Total Immersion and its founder (and Lou's mentor), Terry Laughlin, over the next decade Lou lost nearly 80 pounds, competed in several international, local and regional meets, and eventually emerged as a World Master's medal contender. In 2006, during one of his regular training swims at the U.S. Military Academy facility, Lou stopped to help a cadet in the next lane. The next day, there were two cadets requesting his assistance and within a week, Lou was invited to their tri swim team practice.
Under Lou's direction and thanks to the overachiever mentality of the cadets, in 2007 the US Army tri team placed fifth overall in Collegiate Nationals and took home a bronze medal in the ITU Worlds in Hamburg.
Today, Lou is well-established as a competitive swimmer. He has trained at the U.S. Olympic Center in Colorado Springs, and won a bronze medal in the 1998 World Masters in the 400 IM. He also earned two gold and two silver medals at the 2006 Gay Games, and has developed a successful, productive partnership with the Army triathlete team as the first out gay coach at West Point.
In addition to his role as US Army tri swim coach, Lou is CEO of TGI Healthworks, a company he co-founded in 1999. In 2006, he also co-founded the Global Healthy Living Foundation. Both organizations work to improve the quality of life for people living with chronic diseases worldwide.
Lou lives in Upper Nyack, New York, with his partner of 24 years, Jim Bumgardner.
---
About Laurie Ferguson, Ph.D.
Laurie comes from a family of swimmers. Her father and two of her brothers swam competitively, and now her brother Mark coaches and is a biathlete. Swimming was a part of life that everyone enjoyed.
Researching and understanding sports and sports psychology came naturally from these family pursuits. It also fits with her work in the field of positive psychology. While studying for her PhD , she began researching health and wellness psychology. She has always been interested in motivation -- why people do what they do -- and what brings the most satisfaction and happiness.
She realized that participation in fitness activities provides an environment for satisfaction and the realization of excellence as well as physical health. But many people don't recognize that aspect of training, and don't exploit the potential to grow and develop.
While teaching sports psychology at a local college she asked her students to think about the whys and what of their sports involvement, not just the how. It was difficult for them, and the students were both intrigued -- and resistant to the idea of mental fitness as a component of physical fitness.
That is what brought her to this book.
Lots of conversations with Lou about his coaching methods reinforced the need to think differently about sports training -- especially in the field of swimming. Knowing Lou as a friend, and now working with him as a business associate brought the opportunity to collaborate as writers and speakers to bring a message of training the brain along with the body.
Dr. Ferguson received a Ph.D. from the Derner Institute of Adelphi University, and a Master of Divinity from Princeton Seminary. She graduated cum laud from Smith College with high honors in religion.